Skippered First 22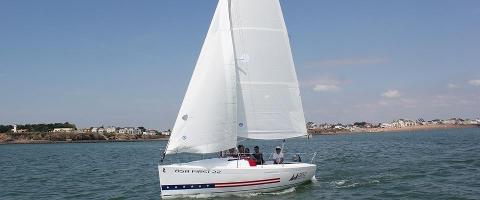 On a typical day we will meet at 9:30 a.m., head down to the boat, stow gear and provisions, and head out around 10:00 a.m. Where we go and what we do is up to you, based on your goals. We will usually motor out of the Oakland Estuary, pass Oakland's commercial harbors. Where we go next will usually depend on wind and current, but we'll cross under the Bay Bridge on to close-up views of Treasure Island, Yerba Buena Island, Alcatraz and Angel Island. We cruise over to the San Francisco City-front and skyline of San Francisco. We'll buzz AT&T Park and McCovey Cove, before reaching back across towards Oakland for a relaxing downwind sail on the flat water of the the Oakland Estuary. We are back to Jack London around 5:00 p.m.
Finish the day relaxing aboard the boat, or head up to one of the many great eateries at Jack London Square for a craft beer, glass of wine or hand-crafted cocktail and delicious food choices.
There are many options to customize an itinerary perfect for your family, friends or work groups, including pickups or stops at Pier 40 in San Francisco (South Beach Harbor), lunch at Angel Island and much more. Ask us about local catering options or do it yourself. (but ask us what works and what doesn't) A variety of waters and softdrinks are available aboard and guests may bring beer or white wine.
More information about this model